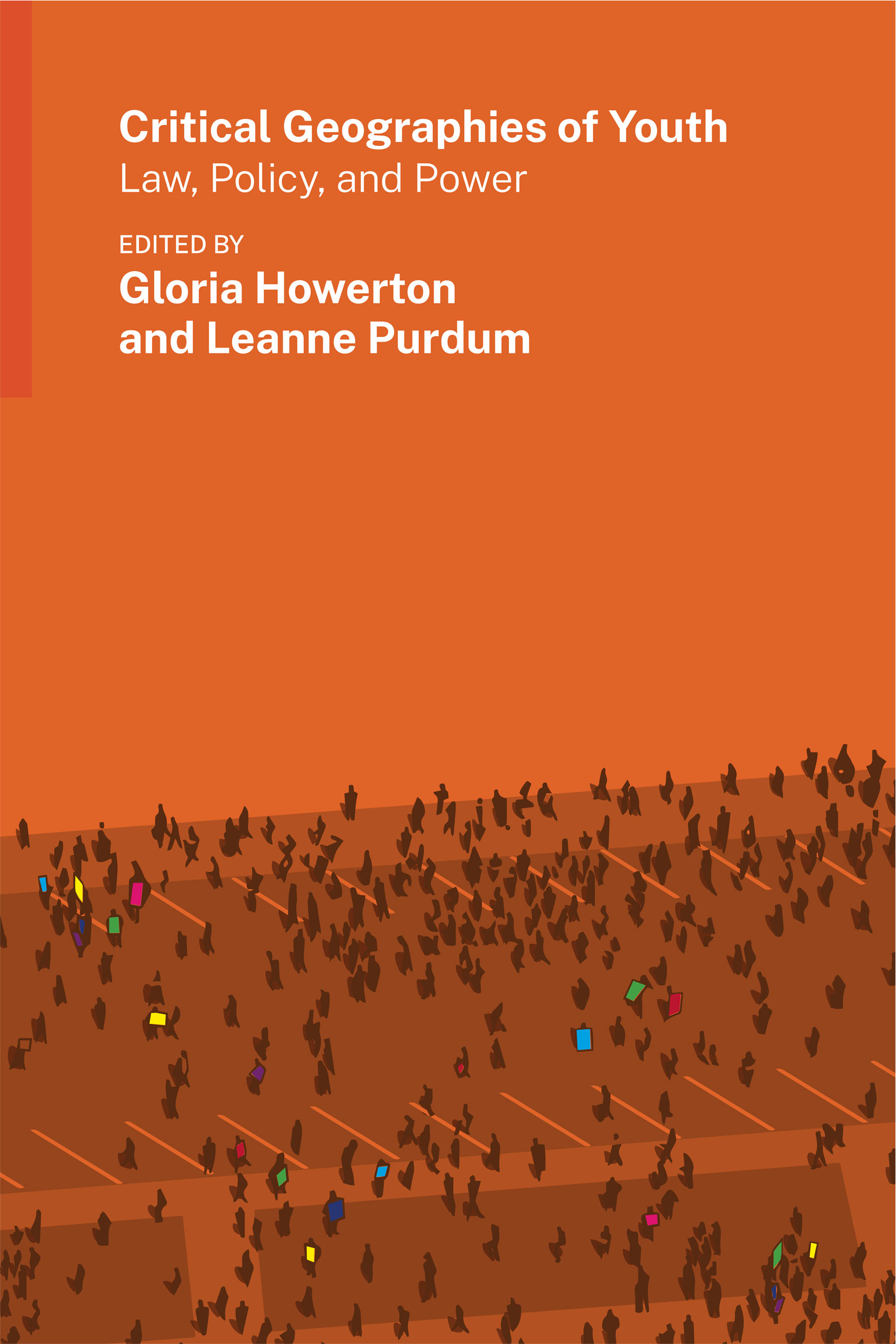 Edited by Gloria Howerton and Leanne Purdum
Available now!
September 2023
224pp
PB 978-1-952271-94-6
$29.99
eBook 978-1-952271-95-3
$29.99
Gender, Feminism, and Geography Series
Critical Geographies of Youth
Law, Policy, and Power
Summary
Young people will bear the brunt of the impacts of present and emerging crises occurring at all scales, from the national to the global. This volume brings together scholars and activists from various backgrounds to analyze youth interactions with law and politics, focusing specifically on the US legal landscape. It uses the lens of youth geographies to consider how legal and political systems shape our spaces, and provides leading-edge perspectives through case studies of child labor, compulsory education, asylum claims, criminalization of youth, youth activism, and more.
Of special interest in this volume is the tension between young people as both objects of law and policy and creative agents of change. Despite being directly affected by law and policy, young people are denied access to many legally sanctioned paths to shape them. Yet youth find ways to work within and mold the social, political, and legal spheres and set the stage for alternative futures.
Contents
Acknowledgments
Introduction
Gloria Howerton and Leanne Purdum
Part 1: Attempts to Categorize and Manage Youth
1. Working and Schooling: A Critical Geography of Child Labor and Compulsory Education Laws in the Early Twentieth-Century United States
Meghan Cope
2. Protecting Youth: The Dismantling of Youth as a "Particular Social Group" in Contemporary Asylum Law
Kristina M. Campbell
3. "Met with the Full Prosecutorial Powers": Zero-Tolerance Family Separations, Advocacy, and the Exceptionalism of the Child Asylum Seeker
Leanne Purdum
4. Understanding New York's Opt-Out Movement: How School Segregation Shaped the Nation's Largest Resistance to Standardized Testing
Olivia Ildefonso
Part 2: Youth Resistance and Resilience
5. The Coming of the Superpredators: Race, Policing, and Resistance to the Criminalization of Youth
Marsha Weissman, Glenn Rodriguez, and Evan Weissman
6. BreakOUT!: Queer and Trans of Color Activism in New Orleans
Krista L. Benson
7. Black Youth Resistance to Policies, Practices, and Dominant Narratives of the St. Louis Voluntary Desegregation Plan
Jerome E. Morris and Wanda F. McGowan
8. The Tribunal of the Future: Youth, Responsibility, and Temporal Justice in US Climate Change Litigation
Mark Ortiz
Contributors
Index
Editors
Gloria Howerton is an assistant professor in the department of geography and anthropology at the University of Wisconsin–Eau Claire. Leanne Purdum is a visiting assistant professor in the law, politics, and society program at Drake University.
Reviews
"This volume is one of the only of its kind, and its engagement with geography, the law, and policy—while reframing children and childhood—stands to make many contributions and interventions in the field."
Nicole Nguyen, author of A Curriculum of Fear: Homeland Security in US Public Schools