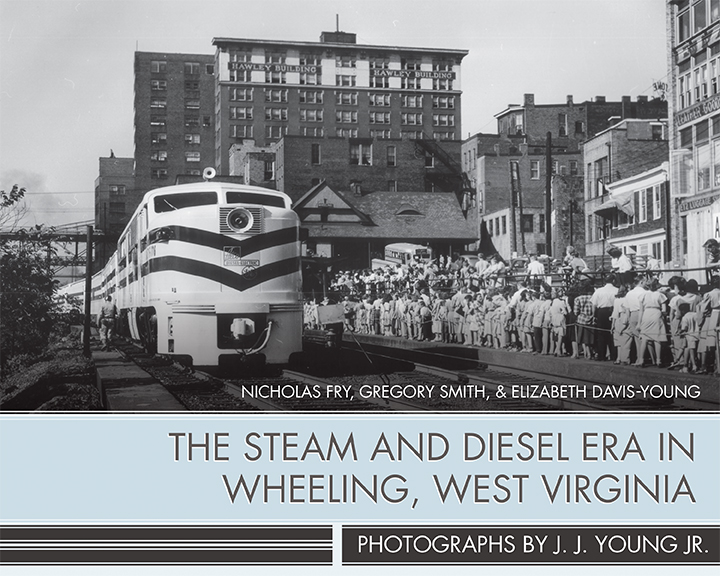 Nicholas Fry, Gregory Smith, Elizabeth Davis-Young
July 2016
224pp
178 b/w images
Litho 978-1-943665-03-7
$49.99
Summary
For nearly seventy years, John J. Young Jr. photographed railroads. With unparalleled scope and span, he documented the impact and beauty of railways in American life from 1936 to 2004.
As a child during the Great Depression, J. J. Young Jr. began to photograph railroads in Wheeling, West Virginia. This book collects over one hundred fifty of those images—some unpublished until now—documenting the railroads of Wheeling and the surrounding area from the 1930s until the 1960s.
The photographs within this book highlight the major railroads of Wheeling: the Baltimore & Ohio, the Pennsylvania, the Wheeling & Lake Erie, the Pittsburgh & West Virginia, the New York Central, and the industrial and interurban rail lines that crisscrossed the region. These images capture the routine activities of trains that carried passengers and freight to and from the city and its industries, as well as more unusual traffic, such as a circus-advertising car, the General Motors Train of Tomorrow, and the 1947 American Freedom Train.
Contents
Acknowledgments
Introduction: Welcome to Wheeling, West Virginia
Chapter One: J. J. Young Jr.
By Elizabeth Davis-Young
Chapter Two: The Baltimore & Ohio Railroad
Chapter Three: The Pennsylvania Railroad
Chapter Four: The Wheeling & Lake Erie Railway, the Pittsburgh & West Virginia Railway, and the Nickel Plate Road
Chapter Five: The New York Central
Chapter Six: The Industrial and Interurban Lines of Wheeling
Notes
Bibliography
Author
Nicholas Fry is the curator of the Barriger Library and is the archivist of the B&O Railroad Historical Society.
Greg Smith is a retired educator and is currently president of the B&O Railroad Historical Society.
Elizabeth Davis-Young is the widow of J. J. Young Jr. This book realizes her desire to fulfill her husband's unfinished plans for a book of his Wheeling area railroad photographs.
John J. Young Jr.'s (1929–2004) hobby of railroad photography began in Wheeling, WV, and continued after he moved to upstate New York in 1959. He was a member of the faculty of Broome Community College in Binghamton and taught photography until his retirement in 1995. His photographs of railroads across the country were published in books and periodicals throughout his life. He was working on this book before his death in 2004.
Reviews
"The photographs at this book's heart are uniformly professional, both technically and artistically. They tell graphic stories about how railroads were operated in the industry's 'traditional' era."
Herbert H. Harwood Jr., author of The Railroad That Never Was: Vanderbilt, Morgan, and the South Pennsylvania Railroad
"These powerful and often unconventional action photos show an amazing variety of trains. Young's depictions of B&O's mighty EM-1-2-8-8-4s alone is worth the price of this book."
Classic Trains